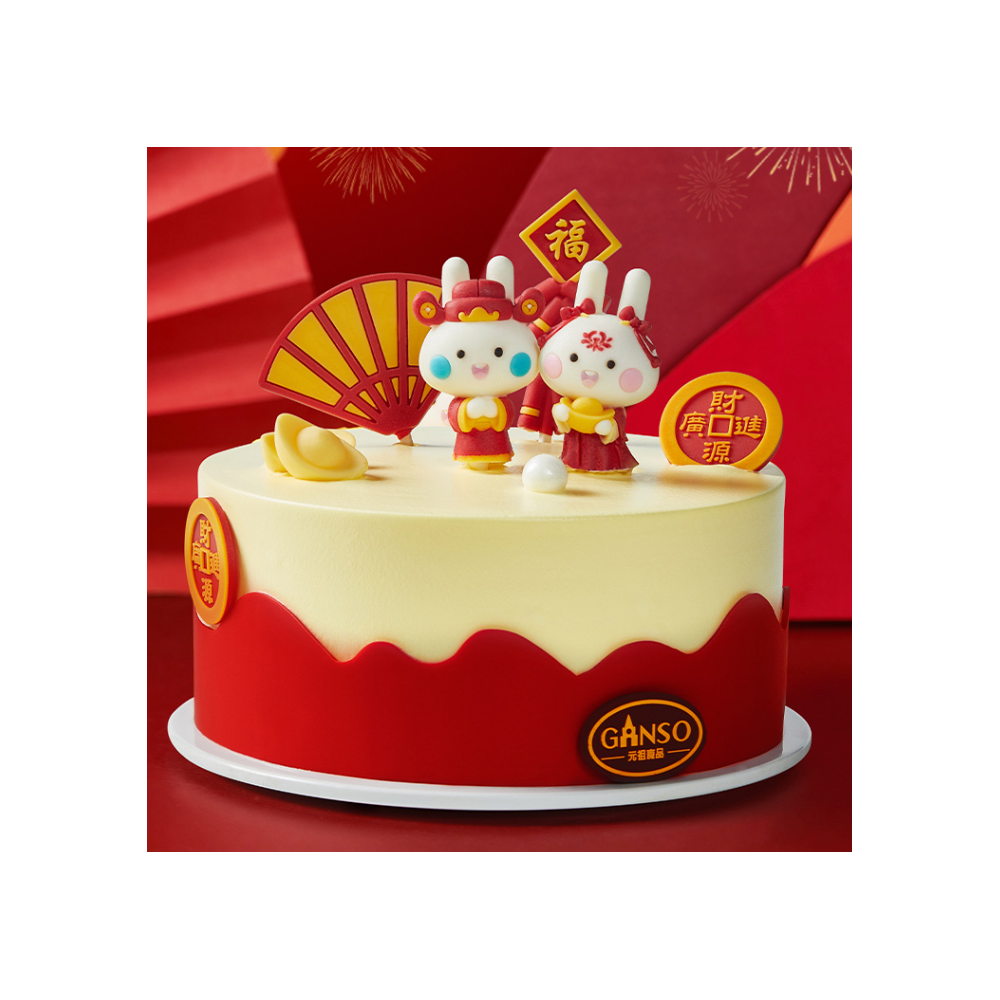  
[Ganso Shop] Chinese New Year Delicious Whipped Cream Birthday Cake
Brand: Ganso
Type: Chinese New Year style whipped cream birthday Cake
Sizes: 6" / 8" / 10" (inches)
Delivery method: Hand-delivered from the nearest Ganso shop
Delivery area: Not available everywhere in China (please see list of cities at the bottom of the page and confirm the city of your delivery address is listed to avoid your order being cancelled)
Ganso is one of the biggest pastry brand in China, it has shops all over China and provides delicious birthday cakes.
Contact method
Recipient's phone number is the most important info we need, please make sure to provide it to us.
Same-day delivery
Place your order before 5pm Beijing time if you wish same-day delivery.
Pricing difference
Please note that cost of flowers are much higher in Hong Kong, Macau and Taiwan.
Availability
This birthday cake is only available for delivery on the cities listed below:
Anshun, Anyang, Bengbu, Changchun, Changsha, Changzhou, Chengdu, Chongqing, Chuzhou, Dalian, Dazhou, Deyang, Dongying, Ezhou, Fujian, Fuzhou, Guang'an, Guangyuan, Guangzhou, Guilin, Guigang, Guiyang, Handan, Hangzhou, Hanzhong, Hefei, Huaian, Huanggang, Huangshan, Huangshi, Huzhou, Jiaxing, Jianyang, Jinan, Jingmen, Jingzhou, Jinhua, Jiujiang, Kunming, Leshan, Lianyungang, Luoyang, Liupanshui, Liuzhou, Luzhou, Maanshan, Meishan, Mianyang, Nanchang, Nanchong, Nanjing, Nanning, Nantong, Neijiang, Ningbo, Panzhihua, Qianjiang, Quzhou, Qingdao,Putian, Shanghai, Shaoxing, Shenyang, Shijiazhuang, Shiyan, Suining, Suizhou, Suqian, Suzhou, Taizhou, Tongling, Wenzhou, Wuhan, Wuhu, Wuxi, Xiamen, Xi'an, Xiangyang, Xiantao, Xiaogan, Xichang, Xinghua, Xinyu, Xuzhou, Yancheng, Yangzhou, Yantai, Yibin, Yichang, Yixing, Zaozhuang, Zhengzhou, Zhenjiang, Zhoushan, Zibo, Zigong, Ziyang, Zunyi