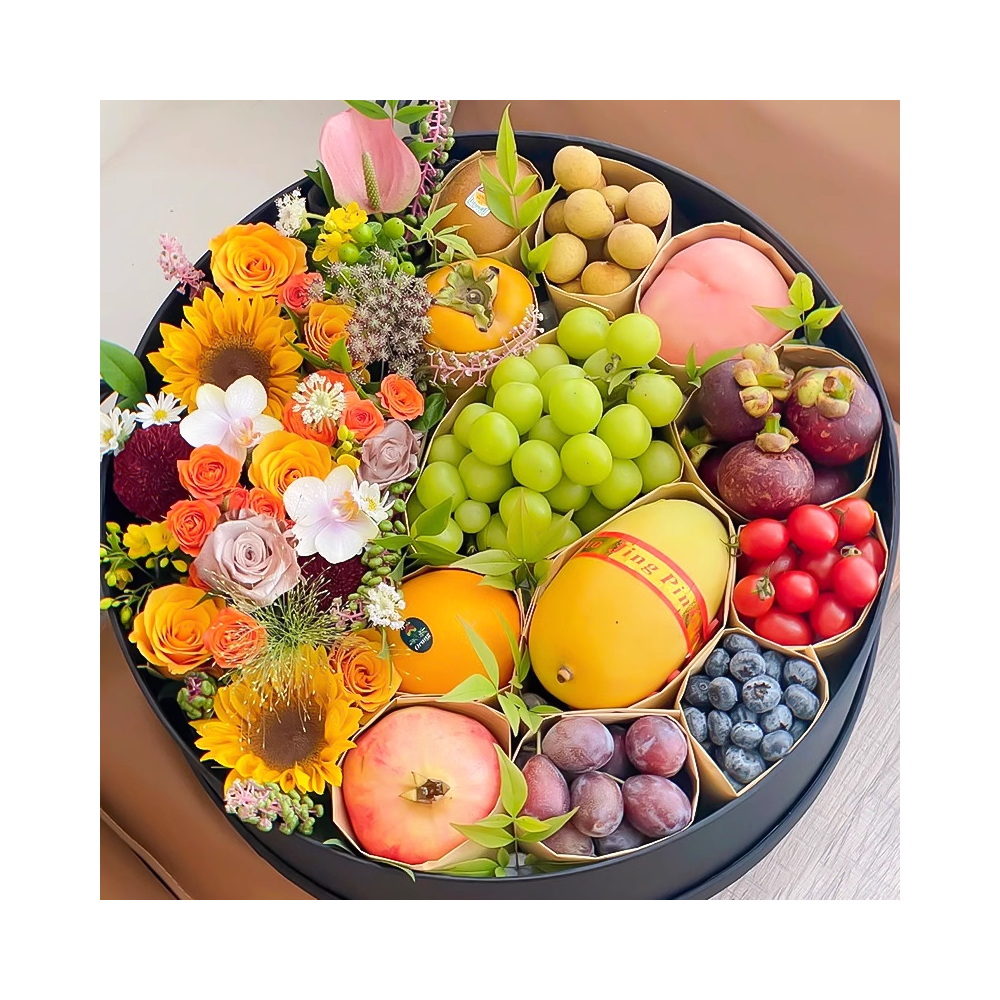  
The Fruits and Flowers Round Shaped Gift Box « Spread Love »
Round shaped gift box composed of flowers and fruits.
Flowers: yellow roses, sunflowers, orange spray roses and foliage.
Fruits: grapes, mango, orange, pomegranate, longan, blueberries, cherry tomato, kiwi.
---
This round shaped box of fruits and flowers can be delivered anywhere in China, including Hong Kong, Macau and Taiwan.
Delivery method: hand-delivered by a local florist located nearby your recipient address.
Same-day delivery or at your requested delivery date: available.
Greeting card: available.
Please note that depending on availability at your recipient address area, if a fruit is not available we may need to replace it by another fruit of similar value.
Contact method
Recipient's phone number is the most important info we need, please make sure to provide it to us.
Same-day delivery
Place your order before 5pm Beijing time if you wish same-day delivery.
Pricing difference
Please note that cost of flowers are much higher in Hong Kong, Macau and Taiwan.
Introducing our stunning Round Floral and Fruit Gift Box « Spread Love » – a perfect blend of nature's beauty, carefully crafted for those special moments, and now available for delivery across China. This captivating arrangement brings together the timeless charm of flowers and the delicious allure of fresh fruits, making it an ideal gift for any occasion in China.
Floral Elegance
Imagine a burst of colors with yellow roses, sunflowers, and orange spray roses, accentuated by lush foliage. Each flower is handpicked to create a visually enchanting display that will brighten any space in China.
Fruity Delight
Indulge your senses in a tantalizing mix of succulent grapes, juicy mango, tangy oranges, ruby-red pomegranate, sweet longan, plump blueberries, cherry tomatoes, and the refreshing green goodness of kiwi. It's a feast for the eyes and the taste buds, delivered right to your doorstep in China.
Thoughtful Gifting
More than just a gift, our round box is a gesture of care and consideration, perfect for expressing your sentiments to loved ones in China. Whether you're celebrating a birthday, anniversary, or sending warm wishes, this Floral and Fruit Gift Box is a unique and thoughtful way to connect, no matter the distance.
Quality and Freshness Guaranteed
We take pride in delivering only the freshest flowers and fruits to ensure a lasting and delightful experience. Each detail is carefully arranged to showcase the beauty of nature, and it's now available for delivery anywhere in China.
Versatile and Memorable
This gift box adds a touch of elegance to various occasions, be it birthdays, celebrations, or expressions of sympathy in China. The combination of vibrant blooms and delectable fruits makes it a memorable and versatile choice for your special someone in China.
Elevate your gifting experience with our Round Floral and Fruit Gift Box – a perfect symphony of nature's finest, now ready to be delivered across China. Place your order now and share the joy and beauty with your loved ones in China.
Customers who bought this product also bought: